Dr. Kevin Melicher
President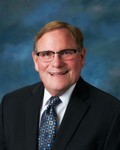 Kevin Melicher, OD, Fargo, N.D., is an optometrist at Eyecare Associates, P.C. who specializes in contact lenses, sports vision and refractive surgery consultations. Melicher attended North Dakota State University while completing his pre-optometry coursework and holds a doctor of optometry degree from the Illinois College of Optometry.
Melicher is no stranger to higher education. He's been the Team Optometrist for NDSU Athletics since 1982, and served as an adjunct assistant professor of optometry at both Illinois College of Optometry and Pacific University College of Optometry. He also served on the Fargo School Board for eight years, including terms as board president, treasurer and negotiations leader, and as a member of the North Dakota Board of Optometry from 2011-2014. Melicher was named the 2013 North Dakota Optometrist of the Year and earned the Dakota Medical Foundation Star Award in 2014.
Mr. Jon Backes
Vice President

Jon Backes is the President of McGee, Hankla & Backes, P.C., a full service law firm operating continuously in Minot since 1901. Jon is North Dakota native, born in Grand Forks and raised in Minot. Backes graduated from Minot Bishop Ryan High School in 1979 and received a B.S. in accounting from Minot State University in 1984.
Following graduation, Backes was a licensed realtor and worked for Signal Management in the property management and real estate business from 1984 to 1987. He later earned a juris doctorate (with distinction) from the University of North Dakota School of Law in 1990. Jon was selected as a member of the Order of the Coif, national scholastic honorary society. Following graduation, he practiced securities and commercial law in Denver for several years before returning home to Minot in 1993.
He is a past president, and a current member of, the Ward County Bar Association; the State Bar Association of North Dakota; the Colorado Bar Association and is licensed to practice in the state and federal courts in North Dakota and Colorado. Backes has served as a director of several community service organizations in the Minot area, including the Minot Area Junior Golf Association; the Norsk Hostfest; the Minot Area Girls Fast Pitch Softball Association; the Minot State University Development Foundation; the Minot Catholic Schools Foundation; the Hogan Heritage Society Board of Regents for Bishop Ryan High School; the St. Joseph's Community Health Foundation; the Minot Art Association; and, the Minot Gun Club.
From 2007 through 2011 Backes served on the State Board of Higher Education spending two years as vice president and chair of the budget audit and finance committee, and one year as president of the Board.
Jon and his wife, Karla have three adult daughters.
Mr. Don Morton
Trustee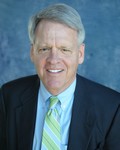 Don Morton was reappointed to the State Board of Higher Education for a second four-year term starting July 1, 2016.
Don Morton retired in late 2016 from Microsoft, where he had served as a senior director and a part of Microsoft Business Solutions (MBS), a group that develops the Microsoft Dynamics Enterprise Resource Planning (ERP) and Customer Relationship Management (CRM) software solutions.
Don has three major areas of responsibility: (1) Leading the global Microsoft Dynamics Academic Alliance team. (2) Leading a team responsible for the Executive Briefing Center (EBC) on the Microsoft campus in Fargo, ND, and working closely with the Microsoft sales teams with a focus on the Dynamics ERP and Dynamics CRM. (3)Site leader for the Microsoft campus in Fargo which has more than 1,700 employees.Prior to joining Microsoft, Don was the assistant to the president and director of university relations at North Dakota State University. He has a coaching background, serving as the head football coach at the University of Wisconsin, at the University of Tulsa and at North Dakota State University where he won four conference championships and one national championship. He also was named national coach of the year in 1983.
Don is a native of Flint, Michigan. He earned a B.A. in Psychology at Augustana College in Rock Island, Ill. and a master's in education from Western Illinois University.
Representative Cynthia Schreiber Beck
Trustee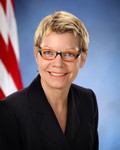 N.D. Representative Cynthia Schreiber-Beck serves as Owner/President of Tri-State Aviation, Inc., and CinderWhit Company Inc.
She also serves as the Airport Manager at Harry Stern Airport, Wahpeton, N.D., the Executive Director of the North Dakota Aeronautics Commission, a Board Member for the Fargo Air Museum, and the Richland/Wilkin Salvation Army Service Unit.
Schreiber-Beck has served N.D. District 25 in the N.D. House of Representatives since 2015. She is also a former educator.
Her past service includes the Bremer Bank Board, CHI St. Francis Health Care, National Agricultural Aviation Association, North Dakota State College of Science Foundation, ND UAS Airspace Integration Team, and the North Dakota Aviation Council.
Dr. Larry C. Skogen
Trustee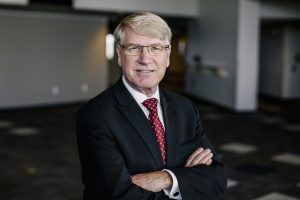 Dr. Larry C. Skogen became president of Bismarck State College on March 1, 2007. He is the college's sixth CEO.
He was appointed to serve as Acting Chancellor of the North Dakota University System in June 2013 and served as Interim Chancellor of the NDUS from Nov. 1, 2013 until June 30, 2015, when he returned to BSC.
Retired from a career in the U.S. Air Force, he is a native of Hettinger, N.D. Dr. Skogen holds degrees from Dickinson State University (B.S. in secondary education); University of Central Missouri, Warrensburg (M.A. in history); and Arizona State University, Tempe (Ph.D. in history).
Throughout his career, he has been involved in education as a high school teacher and as a college instructor and administrator in a variety of military and civilian institutions, including the United States Air Force Academy.
Dr. Skogen is the author of a legal history of federal Indian policy that was published by the University of Oklahoma Press, as well as articles and reviews in historical journals.
larry.skogen@bismarckstate.edu
Mr. Mike Warner
Trustee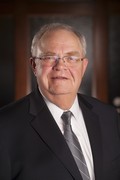 Mike Warner brings a unique cross-section of diverse experiences to the NDUS Foundation. Warner has background in health care, agriculture, food processing and policymaking, with a wealth of perspective from both private and public sector associations.
Warner currently serves as treasurer for the Dakota Medical Foundation, and has served as president and founder of Agriceutical Resources Co., formed Pedigree Technologies LLC, and prior to those ventures ran what was considered to be one of the largest sole proprietor sugarbeet farms in the U.S.
Warner's service record is also extensive. He has served on numerous boards, councils and steering committees, including the Board of Directors of American Crystal Sugar, the nation's 2nd largest sugar processor/marketer and the Meritcare Health Services Board of Trustees. These two organizations were the largest businesses in the region, during the time of his service, with combined revenues of over $1.5 Billion. He was the national legislative chairman for the American Sugarbeet Growers Assn. During his tenure, the sugar policies upon which the industry now depends were developed and legislated. He also served on the Minnesota Migrant Health Council Board of Directors, the Dakota Growers Pasta Company Founding Board of Directors, Progold corn processors development steering committee, the Halstad Elevator Company Board of Directors, Director of the Ag Product Utilization Committee (APUC) and the Governor's Committee on Value Added Agriculture, among many others.
Warner graduated from North Dakota State University in 1972 with a pharmacy degree and received the Upjohn Achievement Award. Since then, he has served as a teaching fellow at University of Missouri Columbia, been part of the 2010 NDSU presidential search committee, received the NDSU Heritage Award and was named the 2003 NDSU Outstanding Agriculturalist, among many more distinctions.
mike.warner@pedigreetechnologies.com
Dr. Mark Hagerott
Ex Officio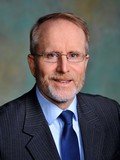 Dr. Mark R. Hagerott is Chancellor for the North Dakota University System. He was appointed to the position following a unanimous vote by the State Board of Higher Education on April 30, 2015. Most recently, Hagerott served as the senior civilian and deputy director of the Center for Cyber Security Studies at the Naval Academy and served on the Defense Science Board study of unmanned systems during the summer of 2015.
A certified naval nuclear engineer in power generation and distribution, who also served as chief engineer for a major environmental project involving the defueling of two atomic reactors, Hagerott changed from engineering to a career in higher education in 2005. Hagerott has conducted research and writing about the evolution of technology, education, and changes in career and the workplace.
Hagerott held numerous academic leadership roles to include the dean of humanities and social sciences, special assistant to the provost, chair of the admissions board, chairmanship of senior faculty senate committees pertaining to assessment and accreditation, and as a planning and strategy director in one of the largest U.S. Army educational organizations. Prior to his transition to an academic career path, he held numerous leadership positions in the U.S. Navy, both aboard ships and in administrative positions in the Department of Defense. He is a fourth-generation North Dakotan.
Hagerott holds a B.S. from the U.S. Naval Academy, an M.A. in political science and economics from Oxford University where he attended as a Rhodes Scholar, and a Ph.D. in history from University of Maryland, and also served as a White House Fellow.
Ms. Tammy Dolan
Secretary/Treasurer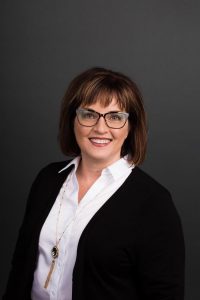 Tammy Dolan is the University System's Vice Chancellor of Administrative Affairs and Chief Financial Officer. Dolan oversees administrative affairs as it impacts all stakeholders within the university system.
She previously worked in the Office of Management and Budget Fiscal Management Division as a management and fiscal analyst. While there, she helped develop and implement a new funding model for higher education in North Dakota, which focuses on completed credit hours.
Her 25-year career in state government has centered on the financial and administrative operations of multiple state agencies and the legislative process. In that role her expertise included a portfolio representing 20 state agencies responsible for the state's education and economic development systems. She worked with OMB for nine years, 14 with Workforce Safety and Insurance, and two years with the Office of the State Auditor.
Dolan has a Bachelor of Science degree in Accounting from Minot State University, and both a Master of Business Administration and Master of Management – Human Resource Management from the University of Mary.